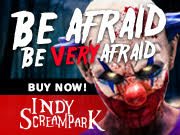 5211 S New Columbus Rd
Anderson, IN
Details
Average Review

Scare Factor

Very Scary

Appropriate For

-

Organization Type

Commercial / For Profit

Listing Categories

More Info

Wheelchair Accessible, Touching Not Allowed, Parking Fees May Apply
Indy Scream Park Haunted House - Serving the Indianapolis, Indiana Metro - Indy Scream Park is Indianapols, Indiana's SCARIEST haunted house!
Located just minutes northeast of Indianapolis, Indiana - Indy Scream Park is 6 spectacular attractions in one, plus a monster midway complete with food, drinks, games, beer and more! Located at 5211 South New Columbus Road in Anderson, IN, Indy Scream Park is Indianapolis, Indiana's SCARIEST haunted house.
Rage 3D:
Descend into disorienting madness in Rage 3D. This attraction is a dizzying assault on your senses from all angles. Just when you think you've figured out what's going on, you'll be pulled further into the craziness where the lines between reality and fiction blur. Are you strong enough to hold onto your sanity?
Pandemic:
NEW FOR 2016!
Omni-Labs Clinical Research is one of the nation's foremost genetic testing facilities.
However, a recent undisclosed accident has resulted in an uncontrolled contagion. Omni-Labs has lost control of a mutated strain of VG-231 and efforts to stop it have been futile.
Closing your eyes won't keep you safe….
WARNING – WARNING – WARNING
Pandemic is an interactive attraction.
Visitors entering Pandemic will be faced with an important decision:
- Should you explore the facility and simply watch the action?
- Or should you "mark" yourself to truly interact with the creatures within?
Those who opt-in for a truly interactive experience may be grabbed, held back, sent into hidden rooms, removed from their group or even forced to remain...
Choose wisely.
(Customers must be 18 years old to "mark" themselves)
- See more at: http://www.indyscreampark.com/public/attractions/pandemic.cfm#attraction-top
Zombieland Apocalypse:
The zombie apocalypse has come, but the Jebs weren't going to lie down and give up. They isolated themselves and became zombie wranglers, controlling the very monsters trying to kill them. Your path leads you through the ruins of civilization in the heart of a junkyard filled with herds of zombies. Will you survive the apocalypse, or will you become one of their "pets"?
Brickmore Asylum:
Brickmore Asylum has been home to the criminally insane since 1902, holding some of the worst lunatics in the country. Warden Stockmeyer has prided himself on his revolutionary "patient-run asylum". He's replaced all of the medical staff and the result have been a horrific world where insanity runs free. Visitors are rarely allowed inside the walls. When they are, they seldom return to tell their tale. Do you have what it takes to make it out alive?
Back Woods:
Buried deep in the Deadstone National Park is the land of the Tate family - land they've fiercely guarded for five generations. Isolated from the rest of the world, the only outsiders they see now are the unlucky travelers who venture into the woods, never to be seen again. To get out alive you'll have to make it through the 1/2 mile wooded trail, straight through the heart of the Tate territory.
Monster Midway:
The Monster Midway is the hub of Indy Scream Park. All of the indoor and outdoor attractions link up to the Monster Midway. It's the perfect place to get the night started or to take a break and bask in the afterglow of adrenaline-fueled terror.
It's got everything you need to get the most out of your visit, including:
An array of terrifying monsters.
Three massive wood fire pits and dozens of picnic tables.
All of the best hot and cold drinks.
A full complement of domestic and import beers.
Your favorite grilled, fried, and cooked foods.
A fully stocked gift shop carrying a full line of Indy Scream Park merchandise
A large variety of midway games
Tarot card readings
Caricature artist drawings
Indy Scream Park Photo spots
Men's and women's toilets
Experience the Monster Midway yourself, open every evening until close.
Email Haunt Owner
All photos and videos within this listing are the property of Indy Screampark
located at the White River Paintball facility just off of I-69, exit #226 in Anderson, Indiana: Take I-69 to exit #226 Go south 1/2 mile and take a right at the first stop light (67th St.) Continue 1/2 mile and take a left at the next stop sign (Columbus Avenue) Continue 1 mile to the facility
By far, the best in Indiana

My family went out to Indy Scream Park during the end of the 2016 and had a great time. Grreat scares and we love the party are in between. They let you go through the attractions as many times as you want, so it's a great value for those of us who love Halloween. We will definitely be back.

Scare Factor:
Fun Factor:
Haunt Value:
Length of Event:
> 1 hour
Time Visited:
5PM - 9PM
Would Recommend:
Yes
Suitable For Kids:
Yes

Posted 11/22/16

Email Verified

Super Scary!!!!

.

| | |
| --- | --- |
| Scare Factor: | |
| Fun Factor: | |
| Haunt Value: | |

Posted 11/7/16

AWESOME

Had a great time!

| | |
| --- | --- |
| Scare Factor: | |
| Fun Factor: | |
| Haunt Value: | |

Posted 11/4/16

Such a great time!

I will total be back again next year. It was so much fun and the employees were wonderful

| | |
| --- | --- |
| Scare Factor: | |
| Fun Factor: | |
| Haunt Value: | |

Posted 11/4/16

Email Verified

Best scream park in Indy!

Indy Scream Park is hands down the best horror park in Indy! I highly recommend if you are looking to get your pants scared off and a good time with friends :)

| | |
| --- | --- |
| Scare Factor: | |
| Fun Factor: | |
| Haunt Value: | |

Posted 11/4/16

Email Verified

Still One of the Best

I've been the Indy Scream Park now for 3 years in a row. I've also been to a number of others around the country. Indy Scream Park stands out because it is a full night experience. They have food, games, drinks and fun characters that scare you throughout the night. It's easily a 3-4 hour experience (I suggest getting the VIP on busy nights.

| | |
| --- | --- |
| Scare Factor: | |
| Fun Factor: | |
| Haunt Value: | |

Posted 11/4/16

Email Verified

Loved it!!!

I went through all the attractions at Indy Scream Park and I LOVED them!! I was amazed at all the attention to detail and work that was put into each attraction. I definitely jumped and screamed a lot, but at the same time it was a total blast!!

| | |
| --- | --- |
| Scare Factor: | |
| Fun Factor: | |
| Haunt Value: | |

Posted 11/4/16

Email Verified

Mediocre this year

This is my third year coming and the interaction was very mediocre, the outside wasn't as scared, and I don't think they had as many actors this year. Usually there are monsters mingling everywhere in the common are scaring you and you can take pics with them but I saw 2 and they weren't scared. I like it when they get in your face in the houses and invade your space to give you that fun and scared feeling and I just didn't get that. Walking into the zombie apocalypse one of the actors was yawning and throughout a lot of the houses some didn't say anything. The clown one is always a favorite of mine because of the illusions. Best one this year. I think they needed more actors and I missed out on fun pictures with monsters!!! Better luck next year!!

| | |
| --- | --- |
| Scare Factor: | |
| Fun Factor: | |
| Haunt Value: | |

Posted 10/16/16

2016 Review Sunday October 2nd 2016

SUNDAY OCTOBER 2ND 2016 was a great night to come. Hardly anyone there, could repeat the haunts as many times as we liked. Here is the rundown: Brickmore Asylum: Very foggy, very scary. Flickering lights, crazy people all around. Great scares. This seemed to be the same maze layout as a few years ago when I attended but still went over the top to scare you. Rage 3D: This had to be the most terrifying clown haunt I've experienced yet. Featuring a strobe clown room that leaves you senseless and really attacks your fears. If you do not like clowns, you will hate this haunt. Actors did a really great job scaring me and I'm hard to scare. Pandemic could have been way better then what it was. I felt let down by this haunt. Actors really didn't do as good of a job as they could have this time and with what they had. We kept looping in circles until we stumbled in a room that was for the plus visitors to experience but we passed on the cryo tube setup and moved on. This one needs work. Zombie Land had to be the BEST outdoor attraction of the season for me. AMAZING set design, zombies just about everywhere you can look. I was taken into this world as it felt very real to me like it could happen. A lot of money was spent on this haunt to make it a very realistic attraction and they did amazing with it. I recommend you do this one last if you can. Backwoods was by far the worst experience of the night. The day before they had rain and did some effort to cover up the mud with hay which helped in some spots. The Backwoods is about ½ mile hike through total darkness. There are hazards like down trees, mud pits and sink holes all around. You get a glow stick to help you find your way. It don't do a lot but help the creatures find you by putting a target on you. After more then 30 minutes fighting with mud, darkness and trying to stay on the trail, which should be more lite then what it is, we finally came out almost knee high in mud. My daughter tripped and I caught her just before she fell, so we helped each other through the haunt. The actors in the Backwoods was VERY friendly, they gave us advise on where to head and told us of hazards we could encounter, which was nice. They even say sorry for bumping into you by accident which was nice cause it was so dark. Out in the Midway, the actors was awesome. Totally professional. We even got photo ops with them which was cool. Overall, it was worth the $23 per person plus free parking we got that night. I can't wait to do it again on another Sunday night next year too as long as we go this time before it rains. Overall, I give the haunt a 8.5 out of 10 for 2016. We had a lot of fun, though some of the actors was a let down at times.

Scare Factor:
Fun Factor:
Haunt Value:
Length of Event:
> 1 hour
Time Visited:
5PM - 9PM
Would Recommend:
Yes
Suitable For Kids:
No

Posted 10/4/16

2 out of 2 found this review helpful

went on the first day it was open this year

It was scary and fun. Some of the actors were Ummm lost and lame but most of that I hope is bc it was the first day. Will be going again this year. I have been every year the past 3 years and I love it.

| | |
| --- | --- |
| Scare Factor: | |
| Fun Factor: | |
| Haunt Value: | |

Posted 9/24/16

2 out of 2 found this review helpful

wheelchair accessible

My husband and I went a few years ago and we loved it!!! I am in a wheelchair and not many haunted attractions are accessible but back then 2 were accessible. I read that now they have 3 accessible. WOOHOO!!! We are planning on going and getting the VIP pass. Some people are never happy or pleased by anything. BUT...if they had to be in a wheelchair I bet they'd change their minds fast. Love the attraction.

| | |
| --- | --- |
| Scare Factor: | |
| Fun Factor: | |
| Haunt Value: | |

Posted 9/5/16

I was really impressed!

I hate haunt snobs who leave reviews and say something isn't scary. Go to these things to appreciate the sets, the actors, the sound and the design...I mean you're literally paying someone to try to scare you. If you expect it how scared are you going to be? That being said I personally watched one of the actors in a Friday the 13th costume scare not just one but two customers so bad they ran out of the park and didn't come back. I'm not joking! This was the second time I've been to Indy Scream Park and the improvements this year were impressive. Rage 3D is visually stunning. The sets on Zombieland: Apocalypse were really well done. Also they have an interactive attraction this year that was great. I was too scared to try it at first but on the second time through (you can go through as many times as you want) I tried it and it was totally worth it. My wife isn't a fan of haunted houses and didn't come with me last year but she came this year. SHE was terrified especially in Brickmore Asylum. I highly recommend going for a night of fun.

| | |
| --- | --- |
| Scare Factor: | |
| Fun Factor: | |
| Haunt Value: | |

Posted 9/29/15

11 out of 11 found this review helpful

Exact same thing as last year!! just not as good!!!

Original owners sold it to an Anderson based company and they didn't change one thing except. The guy on the bus in infected, is now in the cornfield. Not worth 30$, or 5$ for that matter. Not even a different character. Horrible!!! Worst ever, won't go back.

Posted 9/28/14

1 out of 3 found this review helpful

scary as hell

Very good actors and the fast past is worth every penny

Posted 8/26/14

2 out of 3 found this review helpful

Great

Very scary stuff... You guys did a great job. Will be back again next year for sure!

Posted 10/23/12

2 out of 2 found this review helpful
All information on this page was submitted to Indiana Haunted Houses and was believed to be accurate at the time it was posted. Please report any inaccuracies
here
.