Indiana Haunted Attractions Hiring for the 2017 Halloween Season
Home » Blog » IndianaHauntedHouses.com News and Updates, Indiana Haunt News
July 20, 2017 By Chelsea T.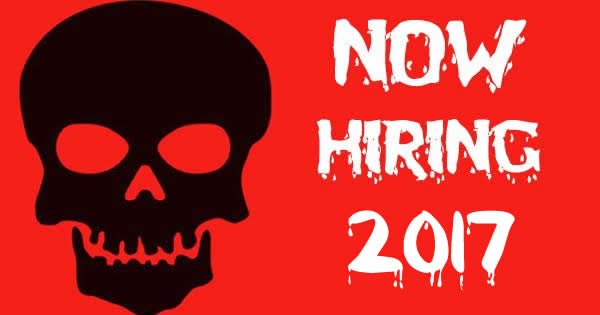 As we enjoy the Summer time, the Halloween Season is creeping up on us. Tons of Haunted Attractions all across Indiana are preparing for the Haunting Season, and have been for quite some time now.

To get things ready to scare Indiana locals this year, Haunted Attractions are in the hiring process and looking to find scare actors or other employees to help the haunt run smoothly all season long. Take a peek at the list below to find a local haunt to work at during the 2017 Halloween Season!
House of Trepidation
1929 S. Meridian St., Indianapolis, IN
317-912-3845
Indy Scream Park
5211 S. New Columbus Rd., Anderson, IN
317-489-3732
Stillwell Manor Haunted House
1704 E. 60th St., Anderson, IN
765-393-1645
The Haunted Loft
1115 E. 1000 N. Fortville, IN
317-326-1700
Open Casting Call: August 19th, 26th & 27th at 6 PM | Applications available on site
Is your Haunted Attraction hiring? Email Chelsea@HauntedHouseMedia.com to get your Haunt added to the list & be sure to check back as we'll be updating the list regularly!