Adorable Family Costumes Pulled Off by Celebs This Halloween
Home » Blog » Halloween's Hottest Trends, Little Ghost & Ghouls Corner , Scary-Good DIY Ideas
November 7, 2017 By Cait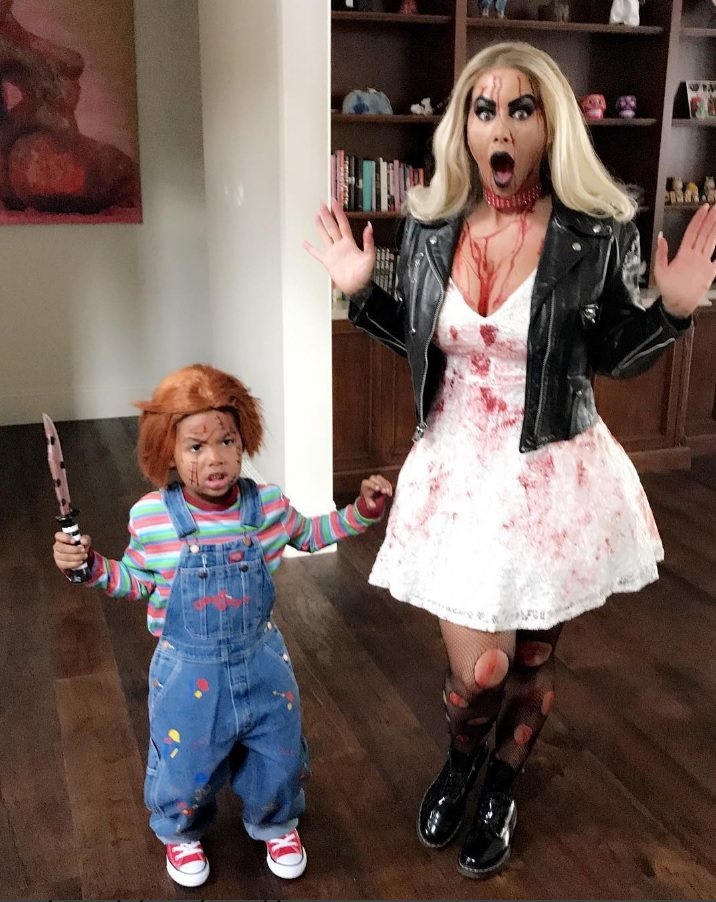 Amber Rose & Her Little One went as Chuckie & the Bride of Chuckie for Halloween!
Photo by:
Amber Rose, via Instagram.
This Halloween, the stars were out in full force, and many of them had their kids decked out in adorable costumes for the holiday too! Even cuter, many celebrities had coordinating costumes with their little ones this Halloween, making for an turning already adorable costumes into a cute family affair.
Here are some of our favorite Celeb Family Halloween Looks:
Fergie & Son as Tinkerbell & Peter Pan - These two were absolutely adorable, decked out as Tinkerbell (Fergie) and Peter Pan. Definitely a cute look for Halloween!
Ellen Pompeo (of Grey's Anatomy Fame) & Daughter as Holly Golightly - The Duodressed up as Audrey Hepburn character Holly Golightly from Breakfast at Tiffanies along with her daughter Stella - the duo was quite the cute site!
Blac China & Her Little Ones as Spooky Skeletons - The trio dressed up as a group of (not so) scary skeletons this year, and they all looked absolutely adorable!
The Sean Lowe & Catherine Giudici-Lowe Clan as the Big "Lowe-owski" - With their little one as "The Dude", probably the most notorious Big Lebowski, this group definietly looked adorable as anything this Halloween!
Amber Rose & Her Little One as Chuckie & The Bride of Chuckie - In this hilarious take on a family Halloween costume, Amber Rose dressed up as Tiffany, better known as "The Bride of Chuckie", while her little one went all out in a hilarious, adorable, and scary (yes, all at once) as Chuckie himself. Definitely a Halloween win.
What Was Your Favorite Celeb Family Halloween Look? Let Us Know in the Comments Below!