"Curse of the Celtic Witch" Coming to Haunted Hills Hospital this March
Home » Blog » Indiana's Best Weekend Events, IndianaHauntedHouses.com News and Updates, Indiana Haunt News
February 19, 2019 By Chelsea T.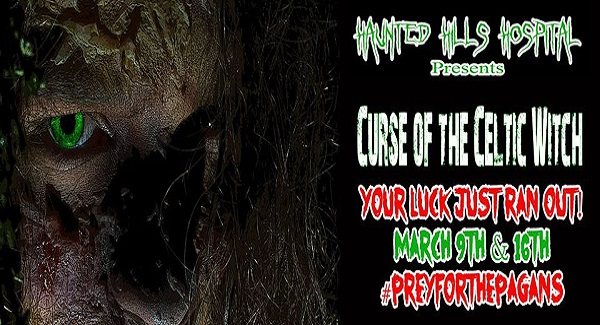 Photo by:
Haunted Hills Hospital via Facebook
Halloween may be long gone but Haunted Hills Hospital of Lake Station will be opening their doors on March 9th & 16th for thrill seekers to enjoy some chills and thrills for the Saint Patrick's Day holiday.

The eerie tale goes as so... on March 17, 1819, a woman named Abigael McDougan was burned at stake by the early settlers of Hills Hollow, due to their belief that she was a witch. While she was burning, Abigael put a curse on the town which stated that she would one day return.

Time had passed and the community of Hills Hollow forgot all about Abigael and the curse she put upon their town. Hills Hospital was eventually built on the ancient graveyard that she was buried in and the evil energy from the patients who had been tortured awakened Abigael's spirit. And she isn't alone... she has brought the evil demons of Hell along for the ride!

The only thing stopping Abigael and her sidekick demons is a group of Voodoo Shaman who are trying to send her back to Hell. Those brave enough to enter the Haunted Hills Hospital will have to help send the witch back to where she belongs! Do you have what it takes?
Click here for more details!