Give Some Scares this Halloween - Haunted Houses in Indiana Hiring for the 2016 Season
Home » Blog » IndianaHauntedHouses.com News and Updates, Indiana Haunt News
August 23, 2016 By Chelsea T.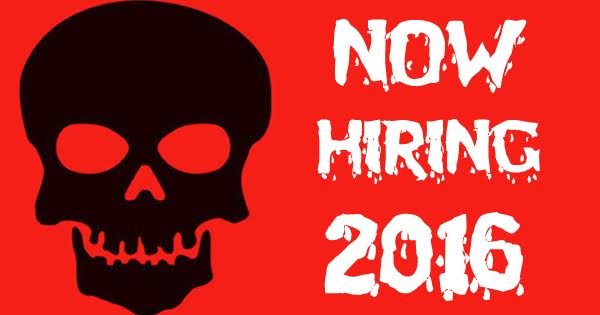 Tons of preparation goes into creating a horrifying haunted attraction, and there are a number of people working both behind the scenes and out in the middle of the chaos, to assure that the Halloween Season goes smoothly.

From scare actors to makeup artists, photographers, concession workers, parking lot attendants, cashiers and security, all the employees that make up a haunt are key to its success. If you're interested in joining a haunt family this Halloween Season, check out the list of haunts here in Indiana that are currently hiring!
Edge of Insanity
5635 N. 00 E W, Kokomo, IN 46901
765-210-1557

Haunted Angelus
8829 E. Washington St., Indianapolis, IN 46219
317-500-GRIM (4746)

House of Trepidation
1929 S. Meridian St., Indianapolis, IN 46225
317-912-384
Note: Work permit needed if applicant is under 18.

Indy Scream Park
5211 S. New Columbus Rd., Anderson, IN 46013
317-218-9515
Note: Must be 18 or older to apply.

Stillwell Manor
1704 2. 60th St., Anderson, IN 46013
765-393-1645

The Indy Haunted Loft
1115 E. 1000 N., Fortville, IN 46040
317-326-1700


Is Your Haunt Hiring for 2016? Let Us Know!