Fear Itself at Legend Park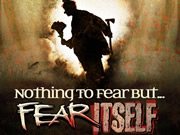 14130 McKinley Highway
Mishawaka, IN
Fear Itself is also considered one of the most intense and entertaining Dark Attractions anywhere. If you're looking to experience one of the best haunted houses in Indiana, Michigan, Ohio or Illinois, then you need to see the Fear Itself at Legend Park Show! As one of the top Scream Parks in America, this show will rock your world!

5 Attractions this Season!

Dark Circus:
Something has gone terrible wrong with the Sinister Circus. With all of the shenanigans the creepy clowns have been up to, this should come as no surprise to anyone. It was just a matter of time before the deranged Ring Master went totally off the deep end. As leader of the Sinister Circus, he maintained his composure (somewhat) until recently. Rumor has it that he has ordered the destruction of all of the circus animals, has murdered many of the circus clowns and tortured and dismembered each and every guest that was in the circus at the time of his breakdown. Now, he challenges you to come to his circus, lights down low, with only the worst of the worst clowns left... and they can't wait to play with YOU!

WARD 13 - Zombie Asylum:
If Cuckoo's Nest freaked you out... Ward 13 Zombie Asylum will leave you breathless. Nurse Hatchet and her barbaric staff of fraudulent physicians and nurses have gone too far. Their heinous surgical experiments have backfired after a patient from Ward 13 died during a grim experimental, mind-bending surgery. He shocked staff when he came out of the morgue zombified. Apparently the drugs or the surgical procedure concluded with an abrupt and unexpected result. While the nightwalker lost his life he didn't loose his memory and he began to eliminate docs, nurses, patients and other staff alike. It appears that each and every one of them have fallen to the disease and now the entire hospital is swarming with walking dead. Avoid it at all costs or you may become a permanent resident!

RAT TRAP...World's End:
Rat Trap is like no other haunted house or outdoor maze anywhere left on Earth. It's post–apocalyptic hysteria in what is left of New York City (now known as the Rotten Apple). After a nuclear war and months of fallout there are few survivors. The dead are considered the lucky ones. The survivors: a couple of corrupt, despicable opportunists, the Militia (who only protect their own) and the "Rotting Night Walkers" (those infected by diseased rats). This Big Rotting City is dark, confusing and horrifying. Your goal is to find the key that unlocks the box to the treasure… and of course, to make it out alive, in the time allotted! If you are successful you could WIN BIG.

ROCK MONKEY CAVES:
The return of the dark, dreary and dangerous, Rock Monkey Caves. These Caves and Caverns are filled with scary creatures that deliver nightmares like you could not imaging. Lightning fast, razor-like teeth and nails like steel, the Rock Monsters that dwell here will tear you to shreds if they discover you've entered their home sweet home. If you have the guts, come see the world's largest haunted house creatures yourself. Hurry though, they're waiting for you!

TAKEN:
TAKEN is a dark attraction like no other. You will be blindfolded. You will be taken into the dark. You will be at the mercy of those who take you. The question is not, will you be taken. The question is, will you ever get back?!. The odds are not in your favor.

BRAINSTORM - Special Event:
Brainstorm is like nothing else you have ever seen. You have to make your way through a zombie house in total darkness… except for the small light attached to your back (which happens to be your life). Oh yeah, there are over 100 Zombies inside and their only goal is to take your life… and you have to make your way past all of them to escape.

If you do escape and make it all the way through without losing your life, you get to go through the next house absolutely FREE. And if you make it through that house, you get to move on to the next (again for FREE!) Just remember, there are Zombies awaiting you in each and every house and it gets tougher as you go!

By the way, If you really want this Zombie Invasion to be even more intense and interactive, you can also rent Zombie Blaster Guns and Anti-Zombie Ammo so you can shoot them dead… before they suck your brains out!

This is our Special Biggest Event of the Entire Year… Don't Miss It!
COVID-19
| | |
| --- | --- |
| | Some locations may have last minute updates due to changing circumstances. Please visit the attraction's website and/or social media before going to double-check that they are open. |
All photos and videos within this listing are the property of Fear Itself at Legend Park
Email Verified

Fun, Scary, Exciting

The best haunted house / scream park ever. They have like 7 or 8 houses plus all kinds of concessions (they surpass Disney with the food). Plus they have live musicians, magicians and stage shows. They also have the largest midway we've seen!

| | |
| --- | --- |
| Scare Factor: | |
| Fun Factor: | |
| Haunt Value: | |

Posted July 2022

Email Verified

BEST HAUNTED HOUSE EVER!

Went to Fear Itself at Legend Park with several friends. This was one of the best experiences we've ever had and by far the best Halloween event. They had 5 attractions and we all agreed at least 4 OF THEM were the BEST HAUNTED HOUSES WE'D EVER SEEN!

| | |
| --- | --- |
| Scare Factor: | |
| Fun Factor: | |
| Haunt Value: | |

Posted March 2022

1 out of 1 found this review helpful

Best Haunted Scream Park Ever

My friends and I go to at least 5 haunted houses each year. We went to Fear Itself at Legend Park this year and we were blown away. They had 5 AMAZING houses! Plus a very cool midway and a lot of other fun things to do. Our group agreed, this is the one haunt/scream park we will be going to every year.

| | |
| --- | --- |
| Scare Factor: | |
| Fun Factor: | |
| Haunt Value: | |

Posted October 2021

2 out of 2 found this review helpful

Email Verified

very fun

Its not every haunted that can get me to scream, i screamed 5 times here!!! all 4 attractions where great! but the clown one and the rats one where the absolute best!!!!!!

| | |
| --- | --- |
| Scare Factor: | |
| Fun Factor: | |
| Haunt Value: | |

Posted October 2020

2 out of 2 found this review helpful

Best Haunted Houses Ever

Went to Legend Park last night and could not believe how much fun we had. We went through 4 haunted houses and every one was completely different. They were all amazing. Thsi si by far the best haunt experience we have ever had!

| | |
| --- | --- |
| Scare Factor: | |
| Fun Factor: | |
| Haunt Value: | |

Posted October 2019

3 out of 3 found this review helpful

Email Verified

Scariest haunt ever visited

Checked this place out last night with my friend and we had a blast. It is easily the best and the scariest haunts ever visited. Three attractions and each had an interesting concept completely unique. You will find the best of magic, dragons, live skeletons and other creatures. The maze was confusing and it was so interactive. It is a thrilling concept where you will have to find the key to the box where you can find the next ticket free of cost. But it was challenging and we lost. We vouched to come back and get our next free ticket.

| | |
| --- | --- |
| Scare Factor: | |
| Fun Factor: | |
| Haunt Value: | |

Posted October 2018

4 out of 4 found this review helpful

Had a family blast at legend park

It was fun here at the haunts and we had a blast. Went with my family and all of endured the scary moments in all the three haunts. It was like the nightmares or even worst. The kind you get to see in movies. The best were the actors. It was too good and could not make out if it was not real. The crew put up a great show that was well planned. The staff was helpful and friendly. It is the best way to spend an evening with family. They are sure to have fun.

| | |
| --- | --- |
| Scare Factor: | |
| Fun Factor: | |
| Haunt Value: | |

Posted October 2018

4 out of 4 found this review helpful

Email Verified

Frightfully chilling

Yoo.. hoo.. we got our free ticket from the maze. It was challenging and the clues where hard to come by. Moreover the scares were troubling us, but we succeeded. This was the best maze experience and we thoroughly enjoyed it. The actors got us confused, scared and sometimes they were funny. Cuckoo's nest was gruesome. They were quite criminal minded. Based on a sanitarium it is filled with actors in gory makeup and have a killer's attitude. That was frightfully chilling. We had a great time. Tried out all three attractions and we are coming again next year as well.

| | |
| --- | --- |
| Scare Factor: | |
| Fun Factor: | |
| Haunt Value: | |

Posted October 2018

4 out of 4 found this review helpful

Email Verified

Great experience, scary and fun

Fear Itself and the whole Legend Park visit was a great experience. 6 of us went as a group. While we are older than most people there we had a blast (I wish the served beer lol). We were there about 4 hours so we got our money's worth for sure. They not only had some great attractions but they also have monsters that roam around the campus and interact with people. And to our surprise they had some great food especially for that type of event (where's the beer guys!?). Anyway amazing, scary freaky show. I'll Be Bock!

| | |
| --- | --- |
| Scare Factor: | |
| Fun Factor: | |
| Haunt Value: | |

Posted August 2017

7 out of 7 found this review helpful

Sinister Circus was Full of Excitement.

I was visiting from Ontario and have not been to a haunted house for years. It was a great experience...more than just people jumping out at you. It was a whirlwind of adventure. Our clown was a great actor I think it was Fritz or Fitz. I have not experience 4d effects before and it added so much too the experience.

| | |
| --- | --- |
| Scare Factor: | |
| Fun Factor: | |
| Haunt Value: | |

Posted November 2016

6 out of 6 found this review helpful

Returning for the 5th year

I have been coming for years there's always something new always something better I hear the coocoo's nest has a lot of young new actors and the sinister circus will be taking main stage but all 5 are incredible

| | |
| --- | --- |
| Scare Factor: | |
| Fun Factor: | |
| Haunt Value: | |

Posted September 2016

6 out of 6 found this review helpful

Scariest Haunted Houses Ever!

As a cop I see a lot of scary things so when another cop friend of mine and his wife invited my wife and I to go to Legend Park we really were not very interested but went anyway. AMAZING! This Cuckoo's Nest was so believable it gave us goosebumps. Rock Monkey Caves was very dark and the actors scared the hell out of all of us. Their Sinister Circus was a combination of funny, entertaining and some real freaky stuff. The 3D attraction wasn't scary but overall a cool walking adventure. Their Lost in the Woods was closed because it was raining pretty heavy. This year they are supposed to open an attraction they had years ago called the Bloody Swamp and I hear it was great. All I can know is if you say this place isn't scary you're either lying or working for their competitors, lol! Great Job you guys. We will be back and will bring some of our other "never get scared" cop buddies with us.

| | |
| --- | --- |
| Scare Factor: | |
| Fun Factor: | |
| Haunt Value: | |

Posted July 2016

10 out of 10 found this review helpful

Not a satisfied customer.

In all honesty i get scared really easily..and this park was not scary at all. I went to all 4 attractions. I'm terrified of clowns and I wasn't even afraid in the circus. I was really disappointed in the entire thing. It wasn't really organized that great. I wouldn't recommend this place to anyone honestly because I feel like it was a huge waste of money..

| | |
| --- | --- |
| Scare Factor: | |
| Fun Factor: | |
| Haunt Value: | |

Posted October 2015

2 out of 18 found this review helpful

View all Fear Itself at Legend Park Reviews
Fear Itself at Legend Park
All information on this page was submitted to Indiana Haunted Houses and was believed to be accurate at the time it was posted. Please report any inaccuracies
here
.