Fear Itself at Legend Park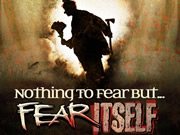 14130 McKinley Highway
Mishawaka, IN
Details
Average Review

Scare Factor

-

Appropriate For

No one under 13 admitted without parent or guardian

Organization Type

Commercial / For Profit

Listing Categories

More Info

Snacks & Refreshments, Touching Not Allowed, Free Parking
Fear Itself is also considered one of the most intense and entertaining Dark Attractions anywhere. If you're looking to experience one of the best haunted houses in Indiana, Michigan, Ohio or Illinois, then you need to see the Fear Itself at Legend Park Show! As one of the top Scream Parks in America, this show will rock your world!
Bloody Bayou Swamp:
Get ready for the Return of the Bloody Bayou Swamp. The largest and by far the scariest Outside Dark Attraction anywhere. Take a trip to the deepest, darkest part on the country, a place where law enforcement don't dare go. This Swamp is filled with an entire herd of the most terrifying, ruthless creatures, monsters and inbreeds that you could ever imagine. What happens in the Bayou, stays in the Bayou.... forever!
Cuckoo's Nest:
Take a bone chilling walk through the most sadistic, most terrifying, insane asylum anywhere. The Indiana Sanatorium, known to locals as the Cuckoo's Nest. Notorious Nurse Hatchet and her barbarous staff have total control of the patients, the locals and even state officials. Their horrific experiments and practices make this one of the most dangerous places anywhere. The Cuckoo's Nest, back for another amazing season as the World's Very Best Dark Attraction
Father Timeless Diaries:
Filled with Magic, Illusions, Mystery, Fantasy and Terror; the Father Timeless Diaries is a series of XIII Volumes of Totally Unique & Different Tales & Adventures (13 Totally Diverse Shows over the next 13 Years) that all meld together for what will certainly be the most unique Haunted Attraction Ever!
Rat Trap:
If you've ever witnessed a rat caught in a trap, struggling to get free, struggling to find a way out, struggling for its life... then you'll get just a little feel of what Rat Trap is all about. Enter the Dark Maze. Hear the horrendous sounds that surround you, Smell the musty odors, the decaying meat... the rotting flesh. Feel your way through this confusing maze of shocking surprises.
Rock Monkey Caves:
They're dark and scary... and extremely dangerous. Catacombs, Caverns and Caves filled with the most treacherous, most feared beasts, anywhere... Rock Monkeys. These monsters have razor sharp teeth, nails of metal, and bones that are hard as rock. Their lightning speed and piercing, screeching noises horrify every other animal on the planet. If you dare to explore these caves, don't plan to be back home anytime soon. In fact, no need to make plans to be back at all.
Sinister Circus:
Sinister Circus... featuring: the Longest Spinning Tunnel in the World! The Longest Claustrophobia in the World! The Largest Living Dot Room in the World! Plus more Sinister Clowns than any other attraction, anywhere! But wait! This year the Sinister Circus is BIGGER & BETTER than ever before. Come be part of the fun at Legend Park's Record Breaking, Sinister Circus!
Email Haunt Owner
All photos and videos within this listing are the property of Fear Itself at Legend Park
Email Verified

Scariest haunt ever visited

Checked this place out last night with my friend and we had a blast. It is easily the best and the scariest haunts ever visited. Three attractions and each had an interesting concept completely unique. You will find the best of magic, dragons, live skeletons and other creatures. The maze was confusing and it was so interactive. It is a thrilling concept where you will have to find the key to the box where you can find the next ticket free of cost. But it was challenging and we lost. We vouched to come back and get our next free ticket.

| | |
| --- | --- |
| Scare Factor: | |
| Fun Factor: | |
| Haunt Value: | |

Posted October 2018

Had a family blast at legend park

It was fun here at the haunts and we had a blast. Went with my family and all of endured the scary moments in all the three haunts. It was like the nightmares or even worst. The kind you get to see in movies. The best were the actors. It was too good and could not make out if it was not real. The crew put up a great show that was well planned. The staff was helpful and friendly. It is the best way to spend an evening with family. They are sure to have fun.

| | |
| --- | --- |
| Scare Factor: | |
| Fun Factor: | |
| Haunt Value: | |

Posted October 2018

Email Verified

Frightfully chilling

Yoo.. hoo.. we got our free ticket from the maze. It was challenging and the clues where hard to come by. Moreover the scares were troubling us, but we succeeded. This was the best maze experience and we thoroughly enjoyed it. The actors got us confused, scared and sometimes they were funny. Cuckoo's nest was gruesome. They were quite criminal minded. Based on a sanitarium it is filled with actors in gory makeup and have a killer's attitude. That was frightfully chilling. We had a great time. Tried out all three attractions and we are coming again next year as well.

| | |
| --- | --- |
| Scare Factor: | |
| Fun Factor: | |
| Haunt Value: | |

Posted October 2018

Email Verified

Great experience, scary and fun

Fear Itself and the whole Legend Park visit was a great experience. 6 of us went as a group. While we are older than most people there we had a blast (I wish the served beer lol). We were there about 4 hours so we got our money's worth for sure. They not only had some great attractions but they also have monsters that roam around the campus and interact with people. And to our surprise they had some great food especially for that type of event (where's the beer guys!?). Anyway amazing, scary freaky show. I'll Be Bock!

| | |
| --- | --- |
| Scare Factor: | |
| Fun Factor: | |
| Haunt Value: | |

Posted August 2017

4 out of 4 found this review helpful

Sinister Circus was Full of Excitement.

I was visiting from Ontario and have not been to a haunted house for years. It was a great experience...more than just people jumping out at you. It was a whirlwind of adventure. Our clown was a great actor I think it was Fritz or Fitz. I have not experience 4d effects before and it added so much too the experience.

| | |
| --- | --- |
| Scare Factor: | |
| Fun Factor: | |
| Haunt Value: | |

Posted November 2016

3 out of 3 found this review helpful

Returning for the 5th year

I have been coming for years there's always something new always something better I hear the coocoo's nest has a lot of young new actors and the sinister circus will be taking main stage but all 5 are incredible

| | |
| --- | --- |
| Scare Factor: | |
| Fun Factor: | |
| Haunt Value: | |

Posted September 2016

4 out of 4 found this review helpful

Scariest Haunted Houses Ever!

As a cop I see a lot of scary things so when another cop friend of mine and his wife invited my wife and I to go to Legend Park we really were not very interested but went anyway. AMAZING! This Cuckoo's Nest was so believable it gave us goosebumps. Rock Monkey Caves was very dark and the actors scared the hell out of all of us. Their Sinister Circus was a combination of funny, entertaining and some real freaky stuff. The 3D attraction wasn't scary but overall a cool walking adventure. Their Lost in the Woods was closed because it was raining pretty heavy. This year they are supposed to open an attraction they had years ago called the Bloody Swamp and I hear it was great. All I can know is if you say this place isn't scary you're either lying or working for their competitors, lol! Great Job you guys. We will be back and will bring some of our other "never get scared" cop buddies with us.

| | |
| --- | --- |
| Scare Factor: | |
| Fun Factor: | |
| Haunt Value: | |

Posted July 2016

6 out of 6 found this review helpful

Not a satisfied customer.

In all honesty i get scared really easily..and this park was not scary at all. I went to all 4 attractions. I'm terrified of clowns and I wasn't even afraid in the circus. I was really disappointed in the entire thing. It wasn't really organized that great. I wouldn't recommend this place to anyone honestly because I feel like it was a huge waste of money..

| | |
| --- | --- |
| Scare Factor: | |
| Fun Factor: | |
| Haunt Value: | |

Posted October 2015

2 out of 15 found this review helpful

BEST SCREAM PARK EVER

this was by far the best scream park ive ever been to, the first attraction i went to was cukoos nest and let me just say that that was the best and scariest thing ive seen! The second one i went to was the 13th hour, an dit was so cool, you wore 3D glasses and it looked like it was vandalized. The third one i went to was the monkey cave and it was so cool and dark. The last one i went to was the circus, now i hated clowns, but this gave me a different perspective of them and it was awesome, the claustrophobia room was awesome, and the light room literally made me think i was going to fall of the railing. If you want amazing attractions and want to get a lot of serious scares i highly recommend going the legends scream park! :)

| | |
| --- | --- |
| Scare Factor: | |
| Fun Factor: | |
| Haunt Value: | |

Posted October 2015

8 out of 9 found this review helpful

Fear Itself at Legend Park- The Best Haunted House Anywhere!

I've heard about Legend Park from pretty much everybody. We Finally went with several friends Saturday. These are the best haunted houses ever! We only paid like $7 an attraction (get a coupon from their website). This show is great. Approximately 3 hours of scary fun. Great job guys!!! We love you Vomit and Starr the clown... and Jimmy!

| | |
| --- | --- |
| Scare Factor: | |
| Fun Factor: | |
| Haunt Value: | |

Posted October 2015

6 out of 7 found this review helpful

amazing

the best haunted house ive ever been too

Scare Factor:
Fun Factor:
Haunt Value:
Length of Event:
> 1 hour
Time Visited:
After 9PM
Would Recommend:
Yes
Suitable For Kids:
No

Posted October 2015

5 out of 5 found this review helpful

Fear Itself at Legend Park has Everything!

Me and my friends have been all over the country to visit some of the best Haunted Houses and Scream Parks. We ended up going to Fear Itself at Legend Park and they BLEW Everybody else away! Instead of the same old same old scares and blood and gore, Legend Park has a huge variety of shows (we were there for almost 4 hours)! The Fear Itself show has like 5 or 6 main attractions and everyone is different. Rock Monkey Caves is like a Disney attraction and the caves are so real you won't believe it. Plus they have this huge monster that is probably 15 foot tall that comes out of nowhere and it's the best animated monster we've ever seen. Cuckoo's Nest was the most real mental hospital we have ever been to. It looks, feels and even smells like a real insane asylum. Everything we've ever read says it's been voted Best Haunted House Ever... and we believe it (except maybe Sinister Circus which was another of our favorites). The show gives you the creeps because it's so real and the actors are AMAZING! Mostly it's freaky and creepy but there is a lot of comic relief which keeps you on a roller coaster Sinister Circus is supposed to be the largest Dark Circus on the planet. I don't know if that's tru but it's by far the largest we've ever been through (and by far the best)! The Sinister Circus clowns are so talented and witty it's worth the price we paid just to see that show (let alone all the others). It took us over half an hour just to go through the Circus. And the whole time we either laughed, freaked out or were startled. The Sinister Circus really is the greatest show under earth! 13th Hour was the best 3D event we've ever gone through (although they call it 4D and we're not sure why). If you are looking for a bloody, extremely scary haunt, don't waste your time. 13th Hour is a maze filled with amazing 3D art, special effects throughout, great music and even a really hot dancer behind glass. This attraction helps break the Fear Itself show up and gave us even more variety. Lost in the Woods was excellent. You felt like you are deep, deep in a woods in some state where there are no laws. We loved Cletus who tried to tell us to turn back when we visited his shack but we went anyway (he asked us for some coin so Jared gave him a dime and he let us "pass". Lost in the Woods was the perfect compliment to this Amazing Scream Park. They had everything from very believable "wolf people" to inbreds, to a pig man to an incredible, huge, Tree Man. On out journey one of the inbreds even fired a shotgun (yes a real shotgun) and chased us out of the woods. Very dark, great variety of characters and very, very effective! I wish we could give the Fear Itself Show 10 pumpkin heads- we would. Fear Itself at Legend Park is the best show we've seen in the entire country!!!

Scare Factor:
Fun Factor:
Haunt Value:
Length of Event:
> 1 hour
Time Visited:
After 9PM
Would Recommend:
Yes
Suitable For Kids:
Yes

Posted September 2015

13 out of 14 found this review helpful

wow

i've been to countless haunted attractions all over and i've never been more scared than i was at fear itself. it was legitimately terrifying. at one point i started crying and i think i peed a little bit. 10/10.

Posted November 2014

9 out of 9 found this review helpful

Legend Park is like a scary Disney World

We have heard about Fear Itself at Legend Park but someone said it was over a hundred dollars. Wrong! It was $29 when we went plus we had a coupon so we only paid like $24 to see all four of their attractions (about $6 per attraction) that's nothing for the show we got. Our group of eight rated their show like this: Rock Monkey Caves- 5 pumpkins. Best set design since Disney 13th Hour- 4 1/2 pumpkins. Great 3D art. Love the vampire DJ. Extremely cool maze at the end. They could add a couple more scares. Overall a great experience. Sinister Circus- Nothing like it in the haunted house business. Funny, entertaining, creepy and lots of scares! 5+ pumpkins! Cuckoo's Nest- Crazy!!! The most realistic sets of any haunted houses. The actors are seriously realistic as well. Everything is so perfect that we sometimes we forgot it was a show and felt like we were in an mental hospital in the 1950's. 5 pumpkins is not enough!!! Great variety! Great value! Best show! For us it was three hours of unforgettable fun!

Posted October 2014

8 out of 9 found this review helpful

Best Haunted Attractions Ever!!!

We've been to haunted houses and scream parks all over the country but Fear Itself at Legend Park is by far the best we have ever seen. We spent about three hours going through all five attractions. Each one was totally different from the next. Cuckoo's Nest was so real it was crazy (no pun intended). The set design is amazing and the actors were so convincing that you actually felt like you were in a real insane asylum. Some if our group liked Sinister Circus better (including me). The clowns are professional and not just kids in a haunted house. They are very witty, talented and entertaining. The attraction is huge. It took us about half an hour to go through just that attraction. They have three or four world records including their spinning tunnel. We loved Rock Monkey Caves where the ticket taker tells you before you enter to "run fast or die slow". 13th Hour 4D was really cool but not scary. They told us up front that it wasn't supposed to be (unlike Cuckoo's Nest and Lost in the Woods) but we still really enjoyed going through it. It really was cool although they could add a few more scares in that attraction. By the way the vampire DJ was jamming and the dancer (yes dancer and a pole) was hot! Lost in the Woods started out kinda fun but between the wolves that appear out of nowhere, the guy with the sparking machete, the huge corn stalking guy and the hillbilly that shoots a real shotgun it was pretty intense. Oh yea, of course they chase you out with the conventional chainsaw but they make it more real. Overall Fear Itself is as good as it gets. We give it straight A's for creativity, variety, entertainment value and set design. We also give it high rating for scares although they could turn up the heat just a little. And thumbs up for outstanding actors (best we've seen)! This is by far the best attraction/scream park in Indiana and the best we've seen in the country! We will absolutely be back to Legend Park!

Posted October 2014

9 out of 10 found this review helpful

It was great

Awesome

Posted October 2014

7 out of 8 found this review helpful

Best Haunted Houses Ever!

Fear Itself at Legend Park has six attractions. And they take from about five minutes to thirty minutes each. Cuckoo's Nest was been named the best attraction of all time and we agree... it is absolutely amazing! Realistic! Scary! And fun! Sinister Circus has more cool stuff than you can imagine including the world's longest spinning tunnel and the claustrophobia tunnel. The Sinister clowns are freaky, funny and crazy. They are some of the best actors I've ever seen and they are extremely talented. Lost in the woods is dark and scary. A real shotgun is used for effect and it is all of that. Rock Monkey Caves is dark and scary. It's very, very realistic. The huge Rock Monster at the end would scare anyone. The fact is the entire show is amazing!!! Best ever!

Posted March 2014

9 out of 9 found this review helpful

The cookoos nest was Awsome..well worth it...the circus one was pretty good too...but for the other two..cant say it was worth it..i wanted scarey stuff not all art...it is creative dont get me wrong with the 3D very unique...but thats not haunted..was disappointed for the cost...120 dollars with half wasted...

Posted October 2013

0 out of 7 found this review helpful

Its awesome!!!!

Posted October 2013

7 out of 7 found this review helpful
All information on this page was submitted to Indiana Haunted Houses and was believed to be accurate at the time it was posted. Please report any inaccuracies
here
.