Are You a Halloween Fanatic? Six Ways to Incorporate "Nightmare Before Christmas" Into Your Holiday Decor This Season!
Home » Blog » Halloween's Hottest Trends, Little Ghost & Ghouls Corner , Scary-Good DIY Ideas, Halloween Headlines
November 30, 2017 By Cait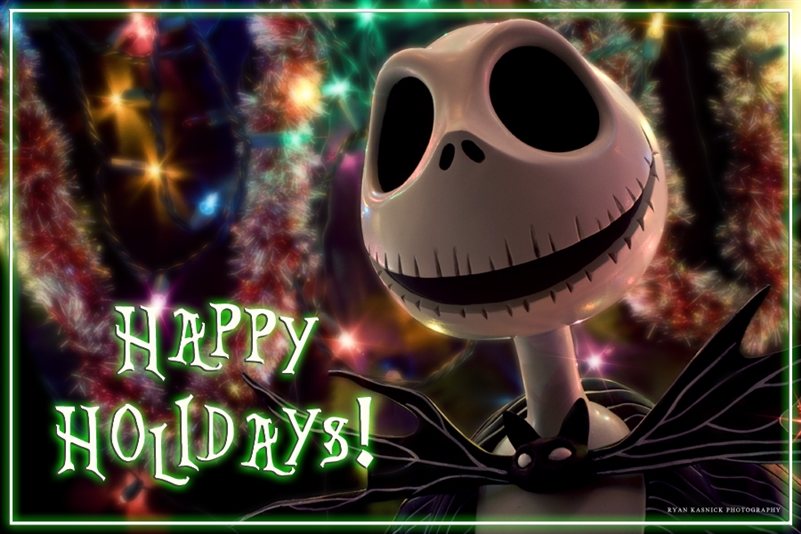 Love The Nightmare Before Christmas? Celebrate Halloween on Christmas With These Fun, Festive Holiday Decor Ideas!
Photo by:
Boogeyman13, via Flickr. (CC BY-NC-ND 2.0)
Christmas is right around the corner, but that doesn't mean you need to let go of the Halloween Spirit just yet! Thanks to Tim Burton, us Halloween lovers have an excuse to celebrate Halloween during the Christmas Season - The Nightmare Before Christmas provides the perfect inspiration for holiday decor that's a mashup of the two funnest holidays of the year!
Not sure where to start? No problem! We've put together some great ways to tie your love of Halloween into your Christmas decor, using some truly inspired holiday decor ideas from The Nightmare Before Christmas, of course!
Create a Wreath That Bites Back

- Ok, who could forget the iconic Christmas Wreath with Monster Teeth that Terrorized Christmas Town in

The Nightmare Before Christmas

? This one is not only fun and festive, but it's not too hard to make! You need a plain Christmas wreath, a big red bow, some white cardboard for the teeth, and some yellow plastic spoons for eyes (and of course a sharpie to give the eyes some expression). There's a really great, simple how-to guide that spells it all out here, including how to add legs to your Wreath Monster, so that he can chase away any unwanted visitors this holiday season.



Paint Your Own Christmas Ornaments as Nightmare Before Christmas Characters

- Ok, so this one can be a lot of fun if you're artistically inclined, and have some acrylic paints laying around. You just need to get some clear glass Christmas ornaments (available at pretty much every craft store this time of year), and go to town! A lot of the designs are fairly easy - Jack Skellignton's head is basically a big white circle, after all. Oogie Boogie can be painted as a shadow on a yellow background, and there's plenty of tutorials and inspired ideas on Pinterest for turning

all

of your favorite

Nightmare

characters into beautiful Christmas ornaments.



Bonus Tip

- While you've got the paint out, why not make a few Jack'o'Lantern ornaments? They're simple to make since jack'o'lanterns are typically round, and they'll add your own festive flair to your Halloween Christmas Ornament Collection!



Turn Old-School Christmas Light Bulbs Into Spider Ornaments

- If you've got some of those old-school Christmas Light strings laying around the basement or garage - you know - the big outdoor ones with the 1.5 - 3 inch bulbs - then it's time to put them to good use! For this one, you just need an old school Christmas Light Bulb, and some black wire that you can bend into place (this is readily available by the spool at craft stores - you want the wire to be about as thick as your standard paper clip).

Basically, you cut four pieces of wire long enough to be a set of legs (this can vary based on the size of your bulb, but I recommend giving yourself a little room to play with), and you wrap it each set around the screw part of the bulb, then position the legs on either side as you'd like, so they look like spider legs (the screw part of the bulb should be the "bottom" of the spider - the colored bulb part is the body, and should be pointed up). From there, you just need to glue a longer piece of wire along the back of the bulb, which you can make into a hook to hang your spider-bulb-ornament off your tree. We'd also recommend putting a little dab of glue on the back of the screw part of the bulb, as a little bit of "insurance" for the wire.



Go All In with a Black or White Christmas Tree

- Christmas Trees are available in almost every color under the sun nowadays, and it's very easy to score a black or white Christmas tree for your "Halloween on Christmas" celebration. If you really want to go all in, you'll definitely want to pick up one of these festive yet funky colored Christmas Trees, which are even sometimes sold as "Halloween Trees".



Bonus Tip

- Pick up black, orange, and white strands of Christmas Lights (the single-color strands are typically right next to the multicolored ones, or, there may be a special setting on the changing color lights) to really tie together your

Nightmare Before Christmas

Christmas Tree this holiday!



Build Your Own "Jack Skellington-As-Santa" Rooftop Decoration

- Are you the real crafty type? Awesome! Then this epic holiday craft might just be up your alley. It's actually pretty straight forward - you build a Jack Skellington body out of PVC Pipe, you paint it (and of course add a head!), slap on a Santa hat and beard, and have him hold a strand of lights, and you're sure to be the coolest house on the block this Christmas!

Plus, you can put him up for Halloween, and keep him up all the way through the New Year! Since this one is a bit more involved, be sure to check out this really cool How To Guide on Halloween Forum put together by a Halloween fanatic, who we have to thank for this awesome idea!


Wing It With

Nightmare Before Christmas

Decorations Right From Disney - Not feeling up to crafting this Christmas Season? Fair enough. Well, not to worry - there's still plenty of ways to tie in your Halloween cheer this Christmas. Over the years, Disney has been expanding their

Nightmare Before Christmas

collection, and there are now a ton of cool ornaments, baubles, and decorations that can really help tie together your Halloween on Christmas look.
How Will You Be Tying Your Love for Halloween Into Your Christmas Decor?
Let Us Know in the Comments Below!