Halloween is for the Dogs: More Pets Are Getting in on the Halloween Fun with Costumes, Parades, & Howloween Events Than Ever Before!
Home » Blog » Halloween's Hottest Trends, Little Ghost & Ghouls Corner , Indiana Haunt News, Halloween Headlines
October 25, 2017 By Cait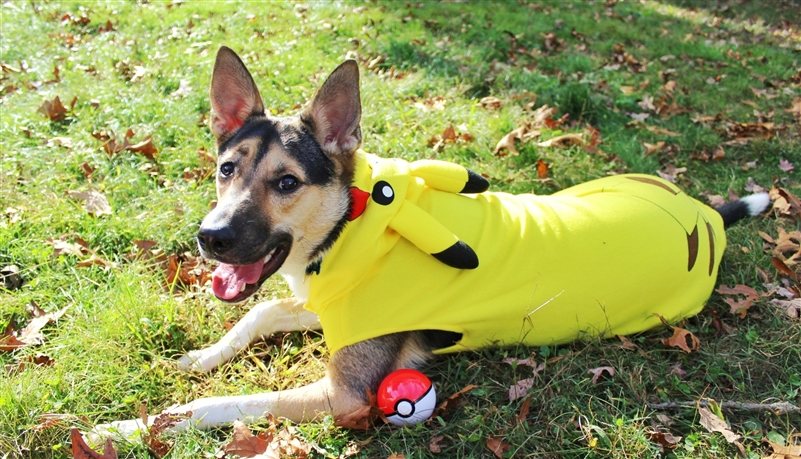 Dogs Can Get in on the Halloween Fun Now with an Assortment of Costumes, Events, and More!
Photo by:
Photo of Chief, by Cait Russell.
For Americans, pets are considered family, and with an estimated 68% of American households including dogs & other pets, it's no wonder that our four legged friends are getting in on the Halloween fun more and more each year! According to the National Retail Federation, approximately 10% of American Households have their pets participate in the Halloween festivities, which pet loves have dubbed "Howloween".
What that means, in practical terms is that there will be more ways than ever before to include your pup in your Halloween fun this year - from Costumed Pet Parades, to handing out doggie treats to doggie trick or treaters, to Howloween Parties that have become a staple of the Fall Season at Pet Retailers and Boutiques across the country, as more and more Americans have let Fido join in on the scary-good fun that happens each Halloween Season.
Over the past few years, the NRF has begun tracking the Most Popular Pet Costumes, along with its Most Popular Adult & Kids Costumes, and while "Festive Bandanas, Collars, & Bows" used to be at the top of the pet list, full on costumes have completely taken over the list of Top Picks for Pets as of 2016.
Here are this year's most popular Halloween Costumes for Pets, according to the NRF:
Pumpkin
Hot Dog
Dog/Lion/Pirate (A Three-Way Tie!)
Bumble Bee
Lil' Devil
Batman Character
Ghost
Cat (We're assuming this one is for dogs? Maybe cats phoned it in this year?)
Witch
Star Wars Character
The fact that festive collars and bandanas no longer even rank in the Top 10 is evidence of how big the so-called Howloween dog take over has gotten - major pet retailers have expanded their Halloween Section tremendously, and all of the well-known, national pet stores run Halloween Costume Contests, as do many smaller local pet stores and pet-related businesses. With so many pups in costume, it only makes sense that local townships are picking up on the trend, and hosting Pet Parades for Pups Decked Out in their Halloween Best, or by letting pets participate in their regular costume parades, making the event all-inclusive.
Given how big the Halloween Industry is (Americans are expected to spend $9.1 billion on Halloween this year), and how large the pet industry is (Americans spend nearly $70 billion annually on their pets), it's no surprise that there's a tremendous cross-over, and that "Howloween" has become a bonafide tradition for pet lovers everywhere.
Will You Be Dressing Up Your Pet for Halloween This Year? Share Your Pet Halloween Pics in the Comments Below!