Harmless Mischief Night Pranks & Gags That Will Have Your Friends Howling on Halloween Morning
Home » Blog » Indiana's Local Halloween Fun Guide, Halloween's Hottest Trends, Little Ghost & Ghouls Corner , Scary-Good DIY Ideas, Indiana Haunt News, Halloween Headlines
October 30, 2017 By Cait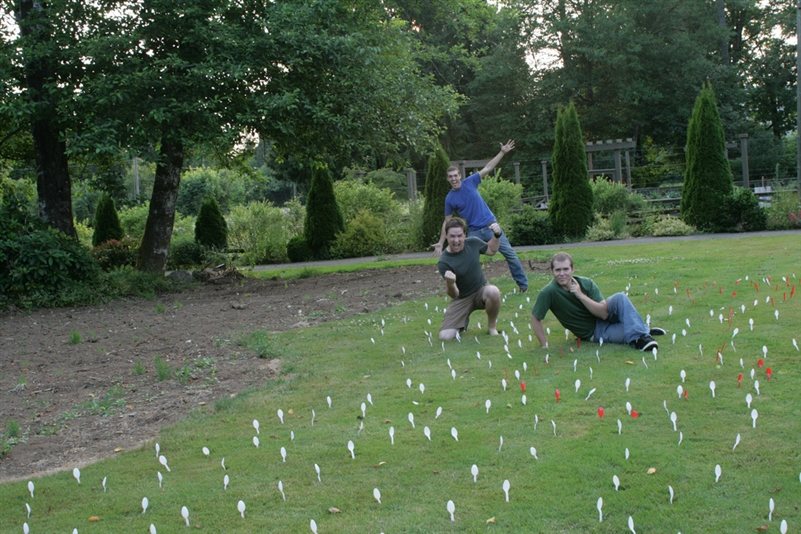 A lawn forking, or spooning, is a harmless prank to play on your friends this Mischief Night.
Photo by:
CJ Anderson, via Flickr.
Ah, Mischief Night. It's October 30th, and you know what that means - it's time to prank your friends and (close) neighbors, and spread some Halloween Cheer around the neighborhood. While pranking people is definitely something that many folks find fun, it's important that your pranks are harmless, and don't cause any damage to your friends' home or property. A good Mischief Night Prank is one that the whole family can participate in - growing up, my family pranked another family every All Hallow's Eve, and in turn, they pranked us right back.

It was never anything nefarious, it was always something silly that we could all laugh about, and each year we upped the ante to see who could do the best job of not only executing a prank, but not getting caught. The important part here is everyone was in on the gag, and all of the adults involved were a-ok with the kids having a little Halloween fun, since it was harmless.
In the spirit of that Halloween tradition, we'd like to share some of our favorite harmless but hilarious pranks to play on your friends this Mischief Night:
Fork the Lawn - Ah, Forking the Lawn, a Halloween Classic. This one is a simple as it is ridiculous - you just need to get a ton of plastic forks, and "plant" them in your friend's yard, so that when they wake up on Halloween morning, they're bewildered. This won't harm the lawn - just make sure if you break any pieces of plastic off, you pick them up. Alternatively, you can do this with spoons, for additional head scratching.


Leave Out Halloween "Easter" Eggs - Looking to provide your pal with a trick AND a treat? Put together some candy filled plastic eggs (we'd recommend using pre-wrapped candy), and put the eggs on on your friend's lawn under the cover of night. Lots of big box stores and Halloween Shops carry black & orange plastic "Easter" eggs nowadays, so if you're feeling really festive, use those, or simply reuse old plastic Easter eggs. Either way, your friends will be in for a fun treat with this trick.


Re-Decorate Their Staple Lawn Decor - This one is fun because you can really personalize it:



Does your friend have a bird feeder in the yard? Pop a plastic skeleton crow in there.
Do they have a lawn jockey? Put a funny Halloween mask over its head, or perhaps dress him up in his own full on costume.
Do they have plastic pink flamingos? Spook 'em up with some fake cobwebs, skeleton faces (you can make these by drawing a skeleton bird face on an old black sock), or other funny accompaniments.
Work with what you've got - the possibilities are endless!



Scary Scarecrow - This one's a little more involved - you'll need a scare crow (bring your own!), and you'll want to print out your friend's face, and cover the scarecrow's face with this. Bonus points for making a scarecrow family, and for leaving little treat bags with each so that your friend knows that this prank was meant to be silly, not scary.


Cover the Car in "Crime Scene" Tape - Is your friend one of those people who doesn't notice anything between the front door and their car? Well, this is a fun way to prank THAT friend. Cover their car in caution tape - you can get all different varieties at local party stores this time of year - ones that warn of a zombie infestation, ones that warn that there's ghosts and ghouls behind the tape, and even festive colors. Note: Make sure your friend's car is cooled down before executing this one, since the tape is made of plastic.


BOO! Your Friend - Leave Them a Bag Full of Treats, Not Tricks - This is a fun one that's become tremendously popular in recent years, and a fun tradition that the family is sure to love. Basically, you put together a basket full of Halloween treats, leave it on your friend's doorstep, with a note about how they just got BOO'd. The idea is they're supposed to then continue the chain by BOOing someone else, and so on and so forth. This is a fun one for even the littlest ghosts and goblins to get in on.
The most important part of a good prank is not only having fun, but making sure no one gets hurt. Be sure to limit these hijinks to the front yard, in case your friend has pets that might be out and about in the back, and make sure to be careful to not damage any property while executing your prank.
Have Any Harmless Pranks You'd Like to Share? Let Us Know in the Comments Below!