Trunk or Treat: The Scoop on The Halloween Trend That Has Been Sweeping the Nation for The Past Two Decades
Home » Blog » Halloween's Hottest Trends, Little Ghost & Ghouls Corner , Scary-Good DIY Ideas, Halloween Headlines
November 1, 2017 By Cait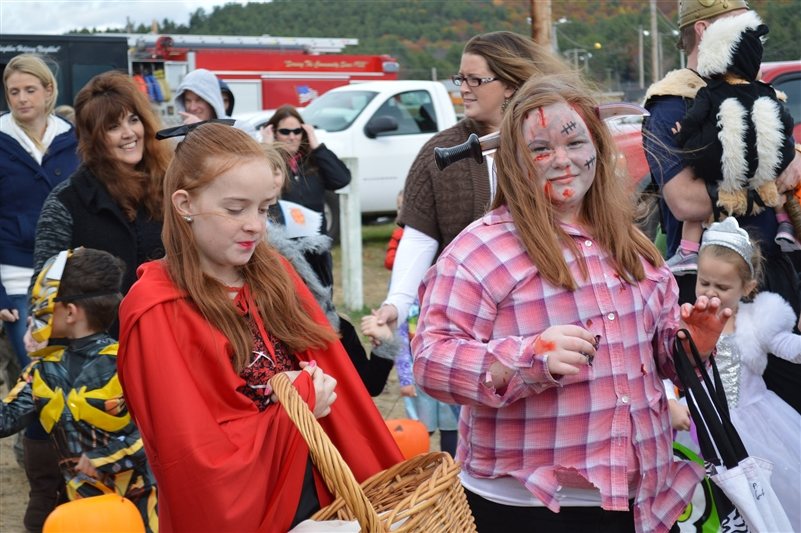 Community Trunk or Treat Events are becoming a big deal in small towns across the country!
Photo by:
The Forum News, via Flickr.
If you've got young children, you've probably heard the phrase "Trunk or Treat" more times than you can count, and you've likely even attended a few of these events. But for those who are uninitiated into this trend turned holiday phenomena, Trunk or Treat is essentially a play on Trick or Treat, but instead of going from door to door, kids go from Trunk to Trunk in parking lots, where parents have lined up their caravans and cars, and even decorated them, providing the littlest ghosts and ghouls with a fun and safe way to enjoy trick or treating.
While Trunk or Treat has been around for quite a while (there's even a New York Times article from 2006 about Trunk or Treating), it's a trend that's been picking up steam at a tremendous rate over the past few years, as more and more parents look for "safe trick or treating" events for their children to participate in. Trunk or Treating Events are typically geared toward the littlest ghosts & ghouls (think, 9 and under), and are set up by parents groups, school associations, and other community organizations that parents trust to do right by their kids on Halloween.
Some see Trunk or Treating as an alternative to Trick or Treating, at least in theory, but in practice, Trunk or Treat events have become a compliment to the main event, trick or treating on Halloween night. They're often hosted in the weeks leading up to Halloween, so that kids who want to participate in traditional trick or treating events still can. Plus, since many of the parents putting together the trunk or treat goodies know each other, it's a good opportunity to give something a bit extra to friends and family on Halloween.
While naysayers say that this is taking away from the fun of "real trick or treating", Trunk or Treat enthusiasts and advocates say that it's the event is designed to be a safe trick or treat alternative for the littlest trick or treaters, or, more recently, it's turned into an event to compliment trick or treating on Halloween night - the vast majority of Trunk or Treat events take place on weekends. No matter which side of the debate you're on, one thing is for sure, and that's that Trunk or Treating isn't going anywhere anytime soon.
Since this hot trend is taking off like wildfire, we've put together the scoop on the need-to-know info about Trunk or Treat events, as well as some tips, tricks, and ideas that the holiday-fun site Holidappy, as well as various other resources, recommend when participating in Trunk or Treating.
So How Does Trunk or Treating Work, Exactly?
First, a local community organization puts out an announcement about their annual Trunk or Treat Event, and includes a call out to parent "volunteers" that would like to hand out candy, treats, and goodies from the back of their car at the event - it's a lot like tailgating for kids. Depending on the size of the event, spots may be limited, and having the coolest Trunk or Treat car trunk has become "a thing", and parents seem to eagerly await the opportunity to get out there, and begin doling out the treats while showing off their decked out Halloween-themed car, so if you're thinking of participating as a parent, be sure to volunteer early!


Once there are enough confirmed volunteers and trunks for the trunk or treat event, community groups often put out an RSVP for children, so that the parents participating in the trunk or treat event know how much candy to buy/how many goodie bags to make, and can get a general idea of the scope of the event to ensure that there's enough treats for all of the little ones.


Now that everything's lining up, if you're going to be participating as a parent, you'll want to decide on how to decorate your car! This can be anything from simple Halloween decorations and banners, to full out costumes for your car - as Truck or Treat Events have become bigger and bigger, so has the art of decorating your vehicle for these events. We'd definitely recommend doing a few searches on Google & Pinterest for some tips and tricks for decking out your car for Trunk or Treating.


When the big night comes, if you're going to be participating as a parent, be sure to arrive an hour early, or so - spots are often assigned, and you'll want to give yourself time to park, and set up your decorations for your trunk.


Once everyone's arrived, and the trunks are all set up, the kids will begin to arrive. Typically, organizers give the kids the "route" they're supposed to go trunk or treating on - similar to how you'd stop by houses in order while going up and down the block during a traditional night of trick or treating. This ensures that everyone will have the opportunity to stop at every trunk, and get treats from all the volunteers participating!
Additional Provisions & Handy Items to Have on Hand
If you're going to be participating in a Trunk or Treat event as a parent volunteer, here are a few things you'll want to keep handy, while you get into the Halloween Spirit:
Water Bottles - Since you'll be parked, and won't be able to leave until all the trick or treaters are done visiting all of the trunks, it's a good idea to keep water bottles handy for yourself, and anyone else helping out with your Trunk!


Sweaters & Sweatshirts - As we all know, Fall weather can go from cozy and warm to downright chilly in a matter of minutes, so it's a good idea to keep a sweater, sweatshirt, or even a light jacket on hand for when temperatures drop later in the evening during the Trunk or Treat Event.
Balloons & Eye Catching Decor for Your Trunk - Ok, this one's definitely more about fun than necessity, but it's become a big trend to make sure your car stands out from the crowd, and having a super-cool trunk at a Trunk or Treat event is its own special kind of badge of honor, nowadays. Adding balloons, small inflatables, banners, and other eye-catching decor (think: tall!) is a surefire way to be a hit with the kids, and have one of the coolest cars at the event!


Have a Friend, Family Member or Partner Help Out - Trunk or Treat events can be long, and it's chilly out - it's a good idea to have a friend or family member join you, so that you can duck out for a bathroom break if needed, and it can't hurt having an extra set of hands with set up and breakdown!


It Can't Hurt to Have Some Extra Treats on Hand - While having an estimated head count is sure to help ensure that you'll have enough treats, it's always a good idea to have a few extra treats on hand, in case there are some last minute trunk or treaters, or some of the registered children's siblings or school friends decide to join in on the fun at the last minute.
Have You Participated in a Trunk or Treat Event? Share Your Experiences in the Comments Below!