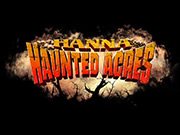 7323 E. Hanna Ave.
Indianapolis, IN
Details
Average Review

Scare Factor

Scary

Appropriate For

Ages 12+ only

Organization Type

-

Listing Categories

More Info

Wheelchair Accessible, Snacks & Refreshments, Touching Not Allowed, Free Parking
Get Ready Indianapolis! This October, Hanna Haunted Acres unleashes 6 Absolutely Spectacular Haunted Attractions. Learn what USA's GREATEST HAUNTS calls One of the Top Haunted Theme Parks in the Country. It's time to SCREAM!
OUR 2018 ATTRACTIONS:
HANNA HAUNTED HAYRIDE – OUR SIGNATURE ATTRACTION
The Haunted Hayride is a crown achievement at Hanna Haunted Acres. You will discover that it is more than just a hayride through the woods. It is a well paced roller coaster cruising through the dour woods with all possible nightmarish creatures imaginable lurking about. Forced to keep at the pace of the tractor pulling your wagon, you will have no choice but to endure the malicious beasts as they step into the light for your terror. Some will follow you, others will try to take you back to the woods with them, but rest assured, all of them will make sure you scream like a child.
FIELD OF FIENDS
Imagine walking through stalks of corn in the nighttime with only the moon lighting your way. Even if you know you are not in a haunted house, there very well could be something right behind you, to the side of you, or right in front of you. We guarantee there will something no matter where you look or step. The anticipation of fear can be worse than fear itself. We pride ourselves in that philosophy. We'll see you within the maizes of the maze.
BLOOD BARN
Step into the red colored barn house and discover the real animalistic doings that go on inside. A grisly sight to behold, you will be gasping for air due to the foul stench of the leftover bodies and will be clamoring to escape as you discover that the slaughterhouse boss is still lurking about. So get out or become next on the menu. You could be fed to the hogs, or hung from the ceiling. Either way, you better run out of this barn house. Because you are the only cattle the boss will see.
CARN EVIL
In Carn Evil, you will endure nothing but the unknown. As clowns and jokers surround and terrify you to the brink of madness, you will discover the true reason behind why we are scared of clowns. Equipped with 3D glasses, you will navigate your way in and out of the clown maze, hoping to not run into any theatrical ghouls along the way. Spoilers: you will.
OUTBREAK
Get ready to have the the toxicity charts go through the roof as you navigate your way through the slick, grisly, and grimy hallways of the Outbreak, a haunt so notorious and foul that even the most hardened haunt-goers think twice about entering. Zombies are pitiful creatures but they are not to be trifled with if encountered in Outbreak. They want your flesh and blood and will stop at nothing to retrieve it. Hence, you should move quickly, since the undead have an uncanny ability to seek out their food no matter what. In Outbreak, the outbreak really does affect everyone in there. Including you. So you should watch our backs, since the virus is live. And it is hungry, just as much as its undead assailants.
BLACKOUT
The darkness is petrifying. When you cannot see, you have no power, no control. You might as well be falling into a black abyss. You will find your way through a pitch black labyrinth, not knowing what could be behind you. Or in front of you for that matter! Be sure you hold the hand of whoever you are with. Like a child in a toy store, it can be so easy for you to be lost within the darkness and never to be found again. Seems like a fate worse than our clowns and zombies. Who knows, you may become a part of our haunt if you lose yourself in the pitch black. We will be waiting…
Email Haunt Owner
All photos and videos within this listing are the property of Hanna Haunted Acres
Unforgettable Halloween Eve

It was fun trip for the whole family and a memorable one. There were six attractions and other entertainment kiosks that made it well worth the visit. I never knew that I would get scared of clowns so easily. It was the fear of unknown that made it even scarier. The hayride gave us the feel of being in a slow wagon truck. Maze was one heck of scary fun with chainsaw men chasing us. The haunts were nicely done with sets replete with gory designs, awesome actors and grisly props. Really superb, and we are coming back next year.

| | |
| --- | --- |
| Scare Factor: | |
| Fun Factor: | |
| Haunt Value: | |

Posted March 2019

Email Verified

Hidden scares were awesome

I had to persuade my BF to come to Hanna Haunted Acres. But I think he had enjoyed the haunt more than me. I am easily startled by all type of scares, and when the actors sensed it, they came after me. The 3D effect was awesome. I was more focused on it that I missed until the creepy actors were on my face. The spinning vortex was my favourite. The props and animatronics were fun in all the houses. The haunted hayride also had some nice hidden scares. Well, it goes without mention that I screamed many times in the haunt. Ticket prices were reasonable. Check this one out.

| | |
| --- | --- |
| Scare Factor: | |
| Fun Factor: | |
| Haunt Value: | |

Posted January 2019

Blackout superb scary

I and family visited Hanna.. The haunted hayride was creepy awesome. It had many hidden scares, props and scary characters. Kids liked the hayride the most. The outfield had some gory zombies and creepy sets and hallways. Carn Evil would scare the daylight out of you if you have a fear for clowns. You will encounter many of them. I liked the spinning vortex more. The Blackout was the scariest, because you can't see a thing. The labyrinth was confusing as expected, and you can't anticipate what scares await you in front and from behind. I screamed the most in Blackout. We all held each other's hand and that helped to navigate the dark path. Looking back, it was an awesome experience. I will come back again next year

| | |
| --- | --- |
| Scare Factor: | |
| Fun Factor: | |
| Haunt Value: | |

Posted October 2018

Email Verified

Loved this!!!

We went on a night that wasnt busy for my 5 year old twins first haunt!! the hayride is always amazing!! i loved how the actors got their scare then gave my 5 year olds high 5's for being brave....much respect. Also there were 2 actors that stood out, one in the corn maze with the tongue piercing/chainsaw and one in the yard with the freaky skull mask and trench coat. They both got down on one knee and took extra time with my kids explaining things to them. Was AMAZING!! they loved it!!! went through only about half the attractions though which is good for 5 year olds first time!! My one twin said his favorite part was the chainsaw guys in the corn maze, the other was the clown house. Love hanna haunted acres!! A little pricey but well worth it!!

| | |
| --- | --- |
| Scare Factor: | |
| Fun Factor: | |
| Haunt Value: | |

Posted October 2018

Heart thumping terror

If a heart thumping terror turns you on, go for the Blood Barn and Outbreak. I experienced some of the bone-chilling scares, sets, props and scary actors there. The set design was as creepy and gory as it could get. The attention to details was awesome. The scenes and smell in the barn will freak you out. The zombies were equally creepy in the Outbreak. My wife who was with me screamed and ran when the zombies tried to scare her. You can't see anything in the blackout. The labyrinth was confusing and scares came from all sides. She was holding on to my hand all the time. Last but not the least, the hayride was fun. I thought it had lighter scares when compared with the rest. We missed out on two of the haunts. Plan to experience them on our next visit.

| | |
| --- | --- |
| Scare Factor: | |
| Fun Factor: | |
| Haunt Value: | |

Posted October 2018

Never miss this one

The fee for six attractions was reasonable. I was with my kids. So could not visit all of them. The haunted hayride had few nice scares and props. Scary characters reaching out for them virtually freaked them out. Fields of Fiends was equally creepy. You got to rely on moonlight to find your way through the corn. The scares came from all sides and it virtually creeped us out. We gave Blood Barn and Carn Evil a miss. The Outbreak had one of the gory sets I'd seen. The zombies scared the daylight out of us. The staff was friendly. Overall, it was an enjoyable scary experience. Recommend this place.

| | |
| --- | --- |
| Scare Factor: | |
| Fun Factor: | |
| Haunt Value: | |

Posted October 2018

Good job guys

The best haunts I have visited in the near future. The rates were reasonable for the kind of haunts it had. You will find hayride awesome with a roller coaster of a ride that feels like a tractor. The ride will be infested with whole lot of beasts making its appearance scaring your wits. It was funny as well as you hear the screams of other visitors. The mood was upbeat the set design created the right ambience for each haunt. The one with clowns and jokers is nail biting and least expected. Good job. Will be back.

| | |
| --- | --- |
| Scare Factor: | |
| Fun Factor: | |
| Haunt Value: | |

Posted October 2018

Email Verified

Totally cool loved it

This was one haunt that wasn't pricey yet had a great deal of attractions and other entertainment options. It was totally cool. Went with my family and we all had a good time together. The actors were imaginative and scary. They take cues from the visitors to find unique ways to scare them. The tractor ride was interesting and also the chainsaw man in the maze. He looked and sounded so real. The set was done so well for each attraction and it was uniquely themed. The corn maze was exhilarating with just the moonlight to guide us through it. Will come next year.

| | |
| --- | --- |
| Scare Factor: | |
| Fun Factor: | |
| Haunt Value: | |

Posted October 2018

Email Verified

Hanna Really is a Ride!

Hanna Haunted Acres has some of the best mazes and haunts that I've ever seen and I'm a total haunt and Halloween junkie. This is my favorite time of the year and Hanna is definitely not to miss I absolutely loved it and would recommend it to anybody!

| | |
| --- | --- |
| Scare Factor: | |
| Fun Factor: | |
| Haunt Value: | |

Posted September 2018

1 out of 2 found this review helpful

Hanna give me my heart back......

This place is spooktacular to say the least, the detailed scenes on the hayride shook me to the bone. The haunts themselves were nothing short of amazing. I have been to a lot of Haunts as I am kind of a Haunt Junkie. Last but not least we enjoyed the corn maze, most Mazes we have been to are junk, however this one surprised us with their little twists and turns, I wont blow it but there are some pretty cool things in the Maze. We will definitely be back!

| | |
| --- | --- |
| Scare Factor: | |
| Fun Factor: | |
| Haunt Value: | |

Posted September 2018

Email Verified

FAVORITE HAUNT IN AREA!

This haunt has been my friends go-to place for many years. They continue to have the best scares for adults of ANYWHERE around the area! Highly recommended not to miss.

Scare Factor:
Fun Factor:
Haunt Value:
Length of Event:
45-60 minutes
Time Visited:
After 9PM
Would Recommend:
Yes
Suitable For Kids:
Yes

Posted September 2018

Fantastic Hayride & Haunted Houses

This is by fart the best haunted attraction in Indianapolis.

| | |
| --- | --- |
| Scare Factor: | |
| Fun Factor: | |
| Haunt Value: | |

Posted September 2018

Scream park overly priced

Scream park relying on a few indoor attractions and corn maze and animatronics hayride. Good concept but overly-priced.

Scare Factor:
Length of Event:
Time Visited:

Posted June 2015

It's okay

We got to do 3 out of 5 attractions. The lines were outrageous. We spent 2 1/2 hours in line for the Saw haunted house, which was crazy. It was a good attraction but not worth the wait. The hay ride wasn't scary but it was fun and the corn maze was frustrating to say the least.

Posted October 2014

Best Haunting experience around

Absolutely the best overall experience with so many options and incredible attractions. My kids favorite was by far "Hooded". And as always the haunted hay ride will not disappoint.

Posted October 2014

Very terrifying

I cried it actually scared older people too soo if your planning on going then go

Posted October 2014

Best

Awesome! Worth your money. The zombie Outbreak house and hay ride was scariest of the years past!

Posted October 2014

SUCKS!!

Do not waste your money! Not scary at all. They rely way too much on animatronics to scare you and those are not even that good. Worse haunted house I have ever been too. If I could give them a 0 I would.

Posted October 2014

best haunt ever

the props were amazing and the actors were really into their parts. saw was neat due to the props but the actors could use some more enthusiasm but the 3d clown haunt was amazing.

Posted October 2013

Not worth your time!

Very poorly put together. Not to mention the staff at the SAW Haunted House were VERY rude! I regret paying such a high price for such a low experience!

Posted October 2013

View all Hanna Haunted Acres Reviews
All information on this page was submitted to Indiana Haunted Houses and was believed to be accurate at the time it was posted. Please report any inaccuracies
here
.