Tunnelton Tunnel - Real Haunts in Tunnelton IN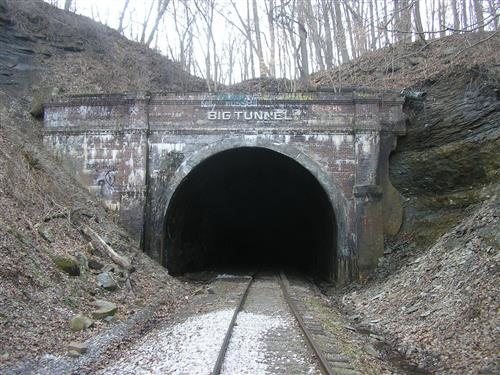 The Tunnelton tunnel was built in the mid-1800's and is believed to be haunted. Although stories change from person to person, one thing is for sure - there is some strange activity that takes place in and nearby to the tunnel.

An apparition of a man with a decapitated head is believed to exist here. Witnesses have heard screams with rumors that there was a graveyard atop the tunnel and when construction was happening bodies fell through to the tunnel. The ghostly man is said to wander with a lantern in one hand, and his head in the other.

Another local legend says a family was killed long ago when their horse and buggy crashed into the river down the hill. People have reported hearing the screams of the ghostly family.

A third story surrounds a former cemetery that sits above the tunnel. Rumors say that a construction worker was cutting into the tunnel when caskets fell through. This is another reason as to why so many could have spotted eerie activity here.

Henry Dixon - An additional story about the tunnel includes the murder of Henry Dixon, whose body was supposedly brought to the tunnel to be destroyed when a train came plowing through. Locals believe Dixon's spirit lingers at the tunnel.
Mouse over photos to see photo credits.
My fave place

With me living not even 30 minutes a way from here I always like going here.... June 9th 2019 has gave me a new experience in the tunnel that I never had... yes late at night's you see someone with a light and family screaming and stuff Bing thrown at you're vehicle.. but yesterday wasn't the same me and my aunt and boyfriend decided to walk through it since my S.O has never been and we get half way through it just coming back from other side and you get this feeling of being pushed like you wasn't getting out fast enough... And out of my 22 times of being out there this has never happend

Posted 6/10/19

1 out of 1 found this review helpful

Didnt believe till that one night

I have visited the tunnel many time even alone but may 25th 2019 will be a night i wont forget.. me and 3 of my friends walked 3/4 of the way thru the tunnel before we decided to head back.. we kept hearing noise but nothin to serious.. we made it back to the trick and start to drive to fort ritner and everyone was okay but some felt odd like we was aware but wasnt.... we went over near for ritner and my friend was gettin very sick like i havent seen him like this before i notice he kept looking at all of us kinda weird so i tried to keep an eye on him.. right before we made it close my friends head turned at an L shape and was staring at me and i didnt notice but when i turned and seen i grabbed his throat and slammed him into the window as hard as i could neither one of us was aware of what happend... as we started home we was shakin and say we need to go back.. we kept having images of what was suppose to happen.. what was suppose to be a funny prank to just scare some people turned into a tragic deal for us in the end prolly wont ever go back

Posted 5/25/19

0 out of 1 found this review helpful

Alright Bro's and Brosette's here it is

I went this past Saturday night at 3:am with 9 people. Everyone went in skeptical and didn't expect anything. There was no wind that day, but in the tunnel there was a draft. The draft didn't start until we were in the middle section, and then weird stuff started to happen. I'm not perfect, but i started to taunt the spirits in there, and because of that my buddy got touched on his shoulder. I thought it were all of my friends, but my buddy had been walking away from the group with two others, and while i was taunting it tunnel; he was adjacent to me in the tunnel, and no one was around him. Is there any other evil there? Anyways, we had formed a circle and turned off our lights. Myself and a friend were talking to the ghosts, and while i had just previously said, "Touch me to make a sign," my friend had gotten touched on his lower back. There were no scratch marks thankfully. Our driving point out was when my bud and i had put a flashlight in the middle section of the train tracks, ran away from it, and told the spirit to make it flash. It didn't. A rock was thrown to my left at the wall. The weird part is the all of my friends were out of the tunnel heading back to their cars when it happened. Is there something evil there???

Posted 3/25/19

Great, spooky place

My husband and I went for the first time back in the summer of 2016. We went in the tunnel almost half way and it got chilly real quick. We heard very faint screams at the opposite end of the tunnel. We left after that lol. We plan on going back again!

Posted 8/27/18

0 out of 1 found this review helpful

Great place

The only thing I have witnessed personally was a few years ago. A few of my friends and I went out for like the 20th time that year and we had never had anything happen untill this time. We walked through the tunnel and back a couple times before dark just to do it. Then when midnight hit we took our last trip through. We made it through with nothing noticeable. On the way back we got about to where the silhouette of a person is spray painted by one of the cubby holes. Instantly and extremely strong was the smell of lantern fuel. All 5 of us stopped dead and looked at each other for a couple of minutes. Then a couple took off running and the rest of us followed. Lol

Posted 4/28/18

i loved it

i didnt see anything too scary i just felt a weird vibe i didnt know how to find it at first but the nice people of the town lead me right to it.

Posted 9/27/17

2 out of 2 found this review helpful

Beautiful Place

Went there today for a family gathering. Nothing that scary stuck out, but there was a dead/partially decapitated bird at a point just before halfway in the tunnel, and the only way it could have been in there is if it was drug in by an animal or human. Weird stuff.

Posted 7/30/17

Fun times

Back in the late '90s my friends and I went out about a half a dozen times. Had some bonfires and some partying and "caught" quite a few trains. Definitely a rush to have it screaming by just a few feet away from you. This place is almost a rite of passage for local teenagers. If I still lived nearby, I'd certainly take my boys and we are just about as risk averse as possible these days. Stay off the tracks when a train comes and nothing to be afraid of.

Posted 1/17/17

Neat but creepy!

As a young kid i remember our parents use to tke us their and show us around. It was pretty neat but very scary too. I wouldnt wanna be their after dark. My question though is for the one person who posted above if thia is private property and no one i allowed near it or in it why doesnt "CSX" do something to block it off where ppl cant get to it!? I remember the trail leading up to it from the road.

Posted 1/16/17

1 out of 1 found this review helpful

Strange strange strange

I'm from Campbellsburg and I've been I don't know how many times to the tunnel. Nothing ever really happened except for one time around a year and a half ago. I took the girl I was dating at the time to see it and she wanted to walk through it. Half way through it got really cold (it was the middle of august on a humid evening) and about 60 yards from the other end the girl screamed and grabbed me. She said it felt like someone was breathing over her shoulder and talking behind us. I never heard anything or felt anything other than the sudden creepy chill, but I was extremely creeped out after seeing the look on her face while she was telling me this because she was super serious and freaked out. We ran to the end and ended up walking down the tracks til we found a place to climb down to the road and walk about 4 miles back down the road to my truck.

Posted 1/16/17

1 out of 1 found this review helpful

Great Niece of the Said "Ghost"

I am the great great great niece of the said ghost. His name is Henry Dixon. He is buried at Dixon Chapel/Proctor Cemetary. I have our family's records and there was never a definite answer to Henry's death. There have been different theories but we shall never know. The tunnel is on private property therefore don't trespass.

Posted 1/15/17

2 out of 5 found this review helpful

Lantern in the tunnel

I have been to the tunnel many times as a teenager and adult and even taken my kids to see the tunnel and walk through. Neat place to visit allot of stories and history, of all the times visited never had a Erie experience until about 6 years ago when a friend and I walked through the tunnel towards dark we where not quit to the half way point where the tunnel makes its curve when the tunnel got a cool chill and we saw a dime then more bright light as if a lantern was floating in mid air toward us and we both got an awful feeling we turned and left the tunnel. I have been back sense with no activity.

Posted 1/15/17

No trespassing

It belongs to the CSX railroad and anyone caught there could be arrested for trespassing. It isn't open to the public and should be avoided.

Posted 1/15/17

6 out of 12 found this review helpful

Visited often the tunnel

Visited many times as a teenager, would be in the cubby holes as the train went through at night.

Posted 1/15/17

Tunnelton train tunnel

For it's time the tunnel was built it is very beautiful. In today's world the tunnel is visited by many from all around far and near. We visit almost every summer to look at the graffity,and to meet other visitors. It is always a popular with the younger generations.. the tunnel is just off set from the river for fun in the sun and fishing too. So make a day of it if possible!!!

Posted 1/14/17

1 out of 1 found this review helpful

Party Palace!

I've been here MANY times! Partied hard back in the day! Had something weird happen last time I walked through it... A few years ago, a friend and I walked through the tunnel at sunset. As we were walking, we heard gravel popping behind us the entire way. It sounded like someone was walking behind us and it REALLY creeped me out. Other than that, it's been an awesome place to hang out!

Posted 1/14/17

2 out of 2 found this review helpful

friends

I have a friend of mine that has had an experience out there that scared him bad enough he won't go back if it's dark. I love it I have slept atop the opening of the tunnel and it's very peaceful and yet very creepy at some points hearing screams and other unknown sounds.

Posted 1/12/17

1 out of 1 found this review helpful

Not scary

I've been there several different times, with different friends and family. Nothing has ever happend while I was there. I have been there during the day and during night.. but it's pretty cool to go chill there and walk around.

Posted 1/11/17

1 out of 1 found this review helpful

Teenage Terror

I lived out in Buddha, half my life. My dad still does, in the same house we grew up in... I think it's a moral imperative, of Bedford livin', to take a trip out there to see what all the fuss is about. Everyone has an experience out there and it IS scary! #HauntedIndiana

Posted 1/11/17

4 out of 5 found this review helpful

Scary

Used to go there and party as teenagers. Heard weird sounds but no headless man. Pretty freaky to be in one of the cubby holes when a train comes thru. Wow what a rush

Posted 1/10/17

2 out of 3 found this review helpful

View all Tunnelton Tunnel Reviews
Share Your Experience or Comments - Tunnelton Tunnel
Real Haunt Listing Info
Visitors to this page: 26,163
Last edit to this listing: 1/18/2017 (1166 days ago)

Disclaimer: Indiana Haunted Houses does not endorse or support trespassing to visit real haunts. Before you visit ANY local real haunt, make sure to acquire the appropriate permits and/or permissions, and be respectful of privately owned properties. Countless Haunt Hunters have been arrested, ticketed, and reprimanded by the authorities for trespassing. To avoid this, be sure to get in touch with the property owners before visiting a haunt, and respect their hours of operation, local regulations, and rules for visiting at all times. Happy haunting!
All information on this page was submitted to Indiana Haunted Houses and was believed to be accurate at the time it was posted. Please report any inaccuracies
here
.