Basement of the Dead Haunted House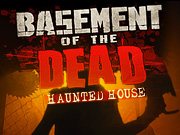 42 W New York St
Aurora, IL
Details
Average Review

Scare Factor

Very Scary

Appropriate For

13 and older

Organization Type

Commercial / For Profit

Listing Categories

More Info

Wheelchair Accessible, Indoor Event(s), Covered Wait Area, Touching Not Allowed, Parking Fees May Apply
Basement of the Dead:
In the late 1920's, Walker Laundry opened at 42 West New York St. and became Aurora's largest laundry Company. Around 1945 Imus Kilya was working there as maintenance engineer. His son Al came to work as his assistant in 1960.
Heat for the building and steam for the presses was supplied by a coal fired boiler installed when the building was built. Al and Imus continually complained that it needed to be replaced, but management wouldn't spend the money. In 1964 the boiler exploded maiming and scalding Al and Imus. They never returned to work and rumor was they had vowed to get even.
Under the streets and building were sewer lines and tunnels well known to Al and Imus. A year or so after the explosion people from the laundry started to disappear and body parts were found in the river near the drainage pipes. Al and Imus were suspected but never found. The laundry eventually closed and the basement was never used again. Businesses have come and gone but nobody stays. Basement Of The Dead is proof that Al & Imus still exist and have made this basement their home.. The mutilation and horror you will witness is so shocking, you'll wish you never entered.
Shattered, the smashing clown, lost all sense of being human the day his famous sledgehammer trick malfunctioned, killing his wife and partner. He knew it had to have been the roadies fault for setting up the trick incorrectly or the pressure he felt from the crowd to do one more stupid trick! The hate and pain devoured his soul. Evil was all that remained. He went through the crowd like a hammer goes through a skull. When his rampage was over, 30 audience members and 15 workers found their final resting places in a puddle of their own blood. That was the last night Shattered the smashing clown was ever seen.
Rumor has it that the clown took refuge down in the darkest depths of an old building at 42 W. New York St. The locals call the building the Basement of the Dead. The story goes on to say that Shattered spent his time in exile praying to demons and learning to spread his evil across dimensions. His vivid nightmares are now becoming part of his resurrected circus. The rumor also says that all the souls he took that night followed him down there. They are keeping the smashing clown company.
Now, the circus tent is reopened! Can you hear the pipe organ in the distance? Shattered the smashing clown is longing to make you scream again. The show must go on! Come see SHATTERED Circus, The World's Best 3D Nightmare."
SO COME WALK THE BASEMENT OF AL & IMUS KILYA. IF YOU'VE GOT THE GUTS!
Email Haunt Owner
All photos and videos within this listing are the property of Basement of the Dead Haunted House
Email Verified

Not scared much

I and GF came to Haunted Hills with lots of excitement. But it turned out to be a dud. Save few scares and actors, the rest was just ordinary. The overall fear factor was below par. It was interactive for sure. But I was not scared much, nor was my GF. A one-time visit at best.

| | |
| --- | --- |
| Scare Factor: | |
| Fun Factor: | |
| Haunt Value: | |

Posted November 2017

Screamed a hell lot times

Nonstop attack in the dark! Special effects and set design were amazing. The tight, twisty, dark hallways were very unsystematic and it enhances the fear factor. We screamed a hell lot times. Impressed by the black flashlights in 3D haunt and chroma-depth painting was amazing. Worth every $$ and time

| | |
| --- | --- |
| Scare Factor: | |
| Fun Factor: | |
| Haunt Value: | |

Posted November 2017

Amazing experience

It was an amazing experience at the Basement of the Dead … the quality of haunts, actors and props were all great… the 3D haunt was quite unique… something you have not seen in other haunt houses… it was all perfectly timed with great visual and sound effects…. Do not miss this one… will be back.

| | |
| --- | --- |
| Scare Factor: | |
| Fun Factor: | |
| Haunt Value: | |

Posted November 2017

Email Verified

Frightening fear

AMAZING!! We went last weekend and it was a blast. We all got spooked and queue was long, but DJ turns away the boredom. All actors and actress never ran out of energy in tolling us with frightening fear. Overall, enjoyed a lot – A+ experience!!

| | |
| --- | --- |
| Scare Factor: | |
| Fun Factor: | |
| Haunt Value: | |

Posted November 2017

Not worth it

We were grouped with strangers in front of us. They were doing all stupid things like looking behind the restricted area. They also slowed us down that the group behind us had caught up. It was too many people for our comfort. The scares were also below par. Not worth it.

| | |
| --- | --- |
| Scare Factor: | |
| Fun Factor: | |
| Haunt Value: | |

Posted November 2017

Absolutely a fantastic experience!!

It's a marvelous haunted attraction! Great use of strobe and florescent paint effect… you better catch hands as you walk as the entire room will look uneven… it makes matter worse as props and actors would jump at you startling the wits out of you as you are concentrated on walking… this was absolutely a fantastic experience… looking forward to coming back again. 5 stars!

| | |
| --- | --- |
| Scare Factor: | |
| Fun Factor: | |
| Haunt Value: | |

Posted November 2017

Quite scary and long

One of the best haunted house we were ever been… the waiting in the queue was entertained by DJ with lively music and actors… had photo ops with the clowns and monsters …haunts were quite scary and long. The enchantress was truly amazing … good effects with 3d glasses. Great place to visit. We are looking forward for next season.

| | |
| --- | --- |
| Scare Factor: | |
| Fun Factor: | |
| Haunt Value: | |

Posted November 2017

Good quality of horror

My experience with other traditional houses weren't great. This persuade me to write this review. At the very outset, setup was amazing and thrilling to create a buzz of scares at an ease. All the actors and actress were very scary and never left their characters. Impressed by the special effects and animatronics as it increased our fear factor while encountering monsters. High fives for managing a large chunk of people to avoid stampede. Certainly, a chill-out place to experience a good quality of horror

| | |
| --- | --- |
| Scare Factor: | |
| Fun Factor: | |
| Haunt Value: | |

Posted October 2017

Email Verified

Dozens of scares well laid out

Basement of the Dead is certainly one of the best haunted houses… the DJ music and monsters create a festive atmosphere in the waiting area… once you are in… you will be welcomed by zombies and clowns… there are 2 houses… the first one had asylum looking rooms with dozens of scares well laid out… the second house needed a 3D glass… and a black flash light to navigate… it's a evil clown themed house. Great job...worth the money!

| | |
| --- | --- |
| Scare Factor: | |
| Fun Factor: | |
| Haunt Value: | |

Posted October 2017

One of the Best Night Out

My favorite haunted house. The waiting area is like a dance club. You will get a lot of photo ops and can also shake a leg with the monsters. We tried out everything inside the house, including the laser tag. Escape room was not simple. We put our heads together to solve the puzzles and get the clues. The staff was helpful. The actors were thorough with their act and were quite energetic. No qualms in repeating their gory act to how many ever people. It was an evening well spent.

| | |
| --- | --- |
| Scare Factor: | |
| Fun Factor: | |
| Haunt Value: | |

Posted October 2017

Complete Entertainment

What happened at Creepy Hollow was beyond words. It was so amazing. Creative, creepy and fun. Loads of effort gone into making each scene. Professional touch in each corner. The props were stunning and authentic. Good adventures for kids. The hayride was creepy and it drops us of at the cornfields. The cornfield is a terror field with numerous actors creating unique scares and it was awesome. The actors knew the art and stayed in characters. On the whole a complete entertainment.

| | |
| --- | --- |
| Scare Factor: | |
| Fun Factor: | |
| Haunt Value: | |

Posted October 2017

Email Verified

Lot of scares

High on detailed layout backed by special effects and highly skilled actors. Excellent management of queue and adequate time of stay inside the house. Lot of scares and all actors did a fantastic job. Kudos to Basement of the Dead. Highly recommended.

| | |
| --- | --- |
| Scare Factor: | |
| Fun Factor: | |
| Haunt Value: | |

Posted October 2017

Email Verified

Loved the Zombies

Had an awesome time with the zombies in the haunted house. The waiting area was filled with characters like serpent and chainsaw who entertained us as it made us forget the boring task of waiting in the line. The show was great and engaging. Strong story line and it ran through the entire house. We could not say from where the next haunt is coming from. The actors were very interactive and funny. It was like being in a horror movie. We loved it and will continue to visit.

| | |
| --- | --- |
| Scare Factor: | |
| Fun Factor: | |
| Haunt Value: | |

Posted October 2017
All information on this page was submitted to Indiana Haunted Houses and was believed to be accurate at the time it was posted. Please report any inaccuracies
here
.